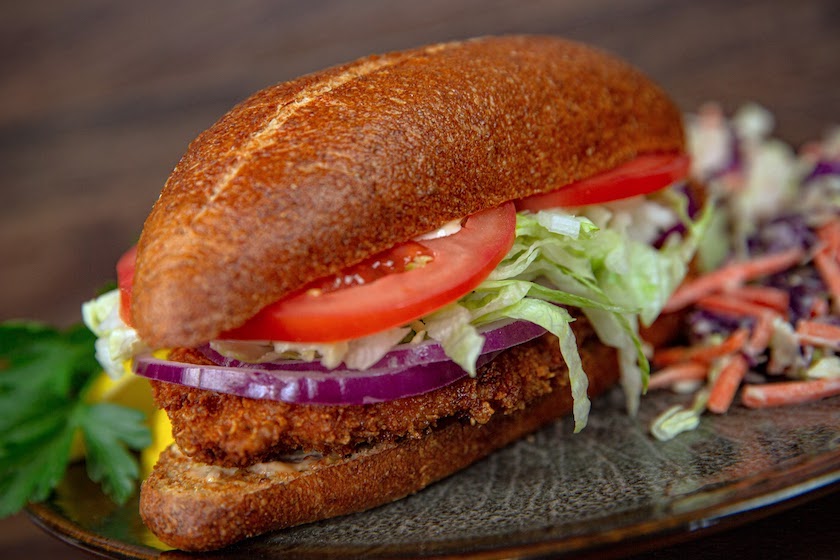 Corn flake crumbs and catfish are a perfect pair, and buttermilk enhances flavor. (Photo by Jack Hennessy)
Recipe by Jack Hennessy. For the complete list of ingredients and directions, read complete article on Game & Fish Magazine.
Fried catfish was one of my grandmother's favorites, and since I began cooking professionally, I've put this fish through several iterations to try and get it where I can call it a favorite. With this fried sandwich, I think I've gotten there.
There are some key aspects here, namely soaking the fish in buttermilk and throwing it through corn flake crumbs. I found these crumbs next to other breadcrumbs at the grocery store, but worst-case scenario you can run normal corn flake through a blender.
Corn flake crumbs and catfish are a perfect pair, and the buttermilk helps neutralize potentially scuzzy pond flavors. The fat in buttermilk also helps flour adhere to the fish. Combined with an egg wash followed by a coating of corn flakes, and the result is a very crispy, very tasty fish.
For the flour mix, to boost flavor, it helps to add a couple of tablespoons of your favorite fish spice rub. I went with The Provider Spawn, which is a fragrant blend of ginger and soy and other spices that go well with fish.
Obviously, the source from which you pull your catfish and potentially the season (think: warm-water catfish versus cooler-water fall catfish) can affect the flavor. Another technique for reducing potentially adverse taste is to freeze the fillets in water for at least a week. The minerals in the water will curb flavor notes that might make non-catfish eaters wince.
Lastly, the sauce here is key, and I would suggest replicating it exactly, even down to the creamy horseradish from St. Elmo Steak House. You should be able to find Huy Fong Sriracha sauce in most stores, and please know that even when adding this to the sauce, the sauce, in the end, is not spicy. I fed it to my 4-year-old with zero comments.
Of course, you can used store-bought catfish for the recipe, and truth be told, you can use any white-flesh fish. Walleye, any species of sunfish, even bass (sorry, tournament anglers)—all would work great here.
Catfish Po' Boy Ingredients:
Two catfish fillets, 6–8 ounces each
1 pint buttermilk
Two French bread or comparable loaves (6-inch loaves)
Shredded lettuce
Sliced tomatoes
Sliced red onions
Sauce Ingredients:
1 cup mayonnaise
2 tablespoons Sriracha
2 tablespoons nonpareil capers, blended
1 1/2 tablespoons diced shallots (one average-size shallot should work), blended
1 tablespoon St. Elmo Steak House Creamy Horseradish
1 tablespoon sweet relish, blended
1 tablespoon stoneground mustard
Flour Dredge Ingredients:
1 cup unbleached flour
2 tablespoons The Provider Spawn spice rub or other favorite rub
Two eggs, beaten for egg wash
2 cups Kelloggs Corn Flakes crumbs
Sunflower oil (or similar smoking-point cooking oil)
1 tablespoon sweet relish, blended
1 tablespoon stoneground mustard
Directions:
Soak catfish fillets in buttermilk for 24 hours.
To make sauce, add diced shallot, capers and sweet relish to food processor or blender and blend thoroughly. In a medium mixing bowl, add mayonnaise, Sriracha, stoneground mustard, creamy horseradish and food processor contents (after blending). Mix thoroughly. (Do not mix in sauce, including mayonnaise, in blender or food processor. That will break the sauce.)
When ready to fry (after catfish has sat in buttermilk for a minimum of 24 hours), mix unbleached flour and 2 tablespoons spice rub.
In a large, deep skillet (preferably cast iron) or deep fryer, heat oil to 400 degrees.
Beat 2 eggs in a medium bowl for egg wash.
Pull catfish from buttermilk and toss in flour dredge. Shake off excess and put through egg wash.
Lastly, coat fillets in corn flake crumbs and toss into oil. If frying in a skillet, flip once underside is golden brown. Cook until golden brown on all sides.
Remove and lightly dab with paper towel and set on grate or stainless-steel mesh tray to dry.
Toast bread and lacquer each side with sauce. Add fillet to each bottom bread, top with shredded lettuce, sliced tomatoes and sliced red onions.
Recipe also available on Game & Fish Magazine.